Between hard-to-build toolkits and abandoned projects, many law firms are disillusioned with document automation. But it's time to discover a completely new approach: intelligent drafting for lawyers.
Lawyers' time is valuable. But are they doing valuable things? That is a question for every legal practice to think about — especially at a time of economic downturn and growing challenges from new providers of legal services. For law firms, it's now more important than ever to understand and implement the concept of Return on the Lawyer (ROL).
What is Return on the Lawyer? (ROL)
Fee earner remuneration is the highest cost for law firms (43% or more according to figures from a recent PwC report). This is to be expected given their paramount importance to a firm's success. The challenge is how to optimise the use of these lawyers' time, to deliver maximum value: Return on the Lawyer (ROL). The key to this is freeing them to spend time on strategic, complex work, and bespoke client servicing, rather than wasting time on routine document preparation. With the time to complete an entire matter dramatically reduced, the firm can handle more matters and increase revenue as a result.
While the vast majority of law firms have implemented some form of document automation solution, many have been unable to achieve a proper return on this investment. Toolkits struggle to automate complex suites of documents, so lawyers are still spending precious hours on activities that a more advanced platform could automate. What's more, the effort required to get many of these toolkits up and running has meant that even their limited value is rarely realised to the full.
ROL is not just about billable hours. It also encompasses the quality of client service and the quality of lawyers' lives. If clients do not feel they are getting value for money they will look to take their business to firms with faster turnaround times. Junior lawyers become unhappy and will not give their best if their time is not being utilised effectively. Meanwhile, associates and partners need the time to think creatively about improving their client service and the strategic future of the firm.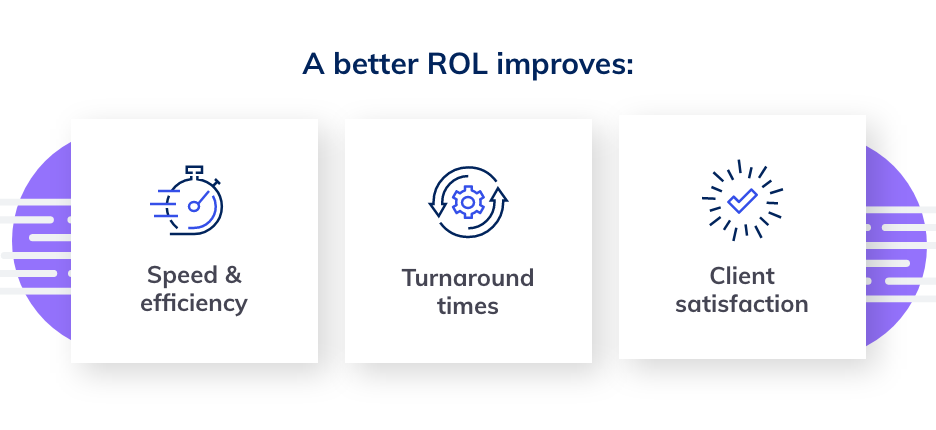 Speed and efficiency. Creating a competitive advantage.
Consistency. Firms can be confident that lawyers at all levels are working to the same high standards, so less senior lawyer time is spent checking routine work.
Morale and wellbeing. When lawyers spend more time on high-value tasks they have more job satisfaction, are less inclined to move on, and can develop more fruitful client relationships.
Between hard-to-build toolkits and abandoned projects, many law firms are disillusioned with document automation. But it's time to discover a completely new approach: intelligent drafting for lawyers.
Intelligent drafting uses a rules-based system to model an entire matter and automate suites of complex documents up to 90% faster. Fee earners' time is freed up to work on higher value activities, delivering a markedly higher ROL.
So, why are law firms losing out?
PwC reports that 80% of the top firms see technology as the key challenge to growth in the next 2-3 years. Firms have recognised the need to invest in technology and transform their workforces to drive productivity and innovation. However, few of these investments are making a worthwhile return.
Firms implementing document automation tend to aim for the minimum viable product by procuring a traditional toolkit and attempting automation of basic elements (e.g. name, address, party details, simple grammar) across numerous documents, a process that can take months with no significant return. This shallow level of automation provides very little value to the fee earner, shaving off only small amounts of time from the drafting.
Achieving deeper automation of complex document elements (data, entities, structure, definitions, logic, formatting, repeating sections, and cross-referencing) is what makes a real impact. But this requires significantly more time and effort to implement, which often can't be spared. And when the automated precedent needs updating, or the partner driving the project loses interest, the system languishes unused.
Firms can be sceptical when they see attempts to implement technology fail to achieve the promised return on investment. This invariably leads to disappointment, and a wariness about technology in general.
In today's climate, this mindset is unsustainable.
How are some firms doing better?
To make a real improvement on ROL through automation, three things are required.
First, the technology must be capable of real transformation. Not a traditional document automation tool, but an intelligent drafting platform capable of coping with the entire suite of documents required by a matter, for example a complex M&A deal.
The technology for intelligent matter-wide drafting is now ready and proven. Clarilis is rewriting the rules of drafting automation to ensure quality and consistency as well as speed. For example, take a complex loan agreement, which would normally take up to a day and a half to draft. Using Clarilis cuts that down to one hour or less: 20 minutes completing the questionnaire and 20-40 minutes of freehand drafting to capture bespoke details pertaining to that particular matter. Time to produce a first draft on any legal document is typically reduced by 90%. Once the key information is within the platform, ancillary documentation can be produced almost instantly — a 100% time saving.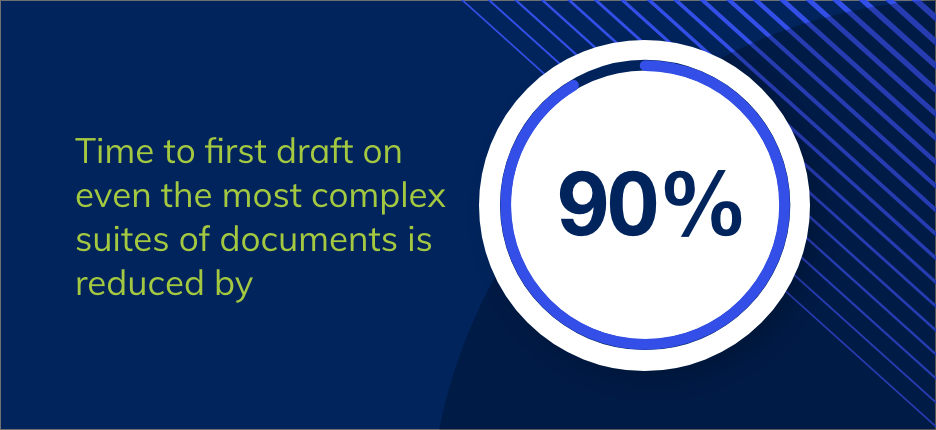 The result is faster turnaround times and confidence that the same processes are followed throughout the firm, allowing tasks to be delegated to more junior lawyers while reducing risk. Fee earners can focus their time and energy on higher value work.
Secondly, firms should limit the burden and risk of implementing drafting automation by using a managed service. Traditional approaches to automation often include significant consultancy fees and costly internal teams that can be difficult to recruit, retain, and motivate. A managed service approach provides access to a team of professional support lawyers and automation experts to design, build, test, implement, and maintain your automation for you.
Clarilis is supplied as a fully managed service, with a lawyer-led team, along with automation experts, responsible for developing, testing, maintaining, and updating the automation. This means that the desired goals are achieved successfully, much more quickly, and without taking precious time away from the law firm. There is no longer any need for a trade-off between speed to value and comprehensive, effective automation. Clarilis delivers both.
Thirdly, before taking this road, firms need to understand where they stand when it comes to automation. Are you ahead of your peers, with the mainstream — or behind?
Time to assess your Return on the Lawyer (ROL)
So, where does your firm stand on this road to the progressive, high-return, future-proof practice?
Are you rapidly drafting complex agreements and documents in a way that gives you a competitive advantage? Or are you still relying on partial automation, with basic tools that can only handle simple documents?
Are you confident that documents are being drafted with complete consistency across every matter, regardless of who in the firm is doing the work?
Does your firm's working culture allow you to attract and retain the brightest legal talent?
Most importantly, is your firm able to continuously improve its client service?
Finally, are you getting a solid return on your investment in people and technology?
There is a simple way to find out. It is time to take the ROL assessment. The quick and insightful questionnaire identifies where you are successfully using technology, and which areas you should focus on to improve your drafting processes, increase productivity and deliver better services.
We will give you a personalised report on how efficiently you are working today, whether you fall into the low, medium, or high category, and recommend the next steps you should take to get a better return on the lawyer.