The ability to meet high client expectations is a key priority for law firms today. However, doing this successfully can sometimes be a challenge, given the rising pressures of time, resources, fierce competition, and an uncertain economic climate.
According to a comprehensive 2020 survey by Wolters Kluwer, there can at times be a significant gap between the expectations and needs of clients, and the ability of law firms to understand and deliver them.
With that in mind, here's an overview of some key client experience considerations for law firms.
1. Response time
Client expectations are not just set by the law firm they are dealing with. As a PwC CEO survey points out, in today's 'experience economy', customer expectations are influenced by the always-on, swift and seamless response culture, as delivered by online retailers and mobile app-based services. The bar has been raised by your clients' experience outside of legal.
Speed of response can be a tricky area for firms. Research shows that 34% of new business enquirers who left a message did not receive a call back within 24 hours. There is also evidence that enquiries are not always well handled. A survey of professional services sectors found that law firms have the highest rate of non-conversion of new business enquiries in the professional services industry. Not great.
Of course, many law firms are swift and highly effective at fielding incoming enquiries. Analysing response times for these firms is about optimisation, ensuring that they don't miss opportunities to win new business, and also to establish solid first impressions at the beginning of the client relationship.
2. Communication and engagement
Research shows that lawyers can sometimes equate client satisfaction purely with the outcome achieved. However, clients also evaluate their lawyers' competence from their experience of the entire process of dealing with a law firm. This highlights the importance of communication, engagement, transparency, listening, and responsiveness.
"Clients want genuine ownership of the relationship by the partner and the team," Mishcon de Reya partner and business development director Elliot Moss told Legal Business. "When firms get bigger, people may think it's just an institutional relationship, but clients still really want personal care. They also want dialogue in between matters. Lawyers must not disappear because their transaction has ended."
3. Innovation and technology
While many top firms have dedicated innovation teams, there is still some room for improvement across the sector as a whole. In the 2020 Legal IT Landscapes report, 21% of lawyers were unsure whether their firm had a dedicated innovation leader. The same study found that 14% 'didn't really' have an innovation department.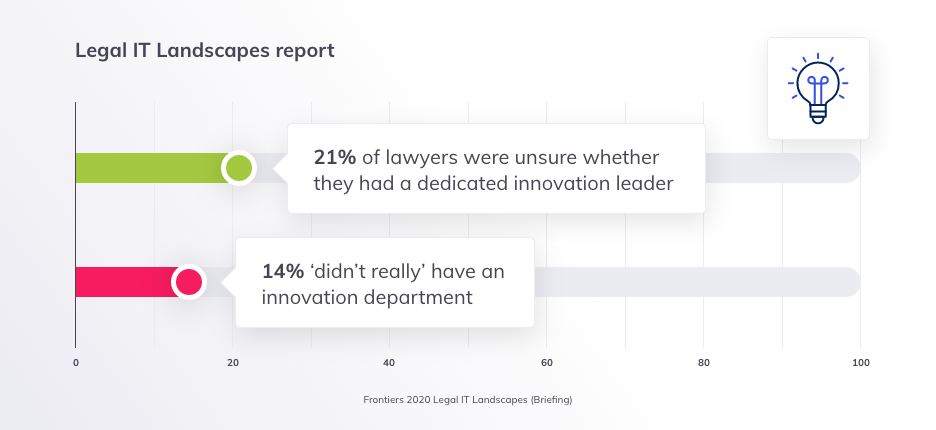 The profession has traditionally not been the quickest to change and adapt, but there are strong signs that this is changing, from greater technological adoption (a top priority in the PwC Law Firms Survey 2020) to new ways of working. Clients are now being offered the use of automated technology, new billing models including fixed pricing, and a more flexible approach to service.
Pioneering law firms are focused on being agile partners rather than transactional suppliers. For example, some are offering clients help in navigating digital transformation, supporting them with specialists including lawyers, technologists, and knowledge management experts. Their role is to design, develop and deliver new solutions to clients. This adaptive approach to developing and delivering new solutions is a necessary step for forward-thinking firms in the face of client demand for greater innovation.
Furthermore, the pandemic has forced everyone to rethink how they work. Many lawyers would say remote working has led to a better home- and work-life balance, greater efficiencies in processes, and more direct communication with clients. New technologies are being adopted and rolled out at an impressive rate. This can only help those that want to innovate and drive further innovation within law firms.
4. Optimising lawyer time for high-value client service
While all law firms aim to give their clients a high-value service, they do not always maximise the availability of their lawyers to provide this service to the best of their abilities. Too many lawyers are still swamped with paperwork, spending hours on the routine, mechanical aspects of drafting legal documents. This reduces the amount of time and energy that they can devote to the strategic and bespoke legal service that clients value most.
A new approach in the field of automation allows lawyers to reduce the time spent on drafting by up to 90%. Unlike traditional document automation toolkits, intelligent drafting technology excels at complex automation of entire suites of documents, including those relating to M&A, banking, employment and real estate. Automation projects can be designed, built, and maintained by the technology provider.
When technology takes over the mechanical aspects of legal work in this way, clients are provided with far swifter service, which in itself is a major contributor to client satisfaction. Fee earners' time is also freed up to engage in strategic activities and relationship-building to enhance the client experience.
Key takeaways
The ability to meet higher client expectations (particularly in the field of LegalTech) is now a priority for law firms, but doing this effectively is easier said than done.
Response, communication, and personal engagement remain fundamental aspects of client experience, beginning with the initial contact and continuing even as firms and their clients grow.
The legal sector has traditionally been cautious with innovation, but this is changing rapidly with the growth of new technologies, working practices, service delivery models, and client solutions.
By using intelligent drafting technology to automate complex legal documents, lawyers have more time to spend on higher value strategic activities, resulting in a far better client experience.