Every law firm wants to maximise productivity, improve client satisfaction, and gain a competitive advantage.
However, too many law firms have struggled to optimise their human capital and capture crucial learnings. The solution lies with a solid continuous improvement process aligned with the firm's overall strategy, coupled with using technology to work more efficiently, and share knowledge and best practice better.
Promote a learning culture to avoid knowledge leakage
Even in today's sophisticated law firms, valuable knowledge is all too often held by the few rather than the many. Senior lawyers, or those close to a particular client, might be the only ones who are kept up to speed with critical information.
This is a risky strategy as these individuals aren't always available to be consulted for a variety of reasons, from being tied up with client work and meetings, to temporary absence on annual leave. If and when these colleagues eventually retire or move on to another firm, their knowledge and expertise may be lost for good.
And that's not all. The rise of remote working brings its own unique challenges when it comes to knowledge sharing. Junior lawyers can't simply put their head around their colleague's door to ask a question, such as whether a certain clause should or shouldn't be included in a particular document. Knowledge management leaders now have to solve the problem of facilitating drafting collaboration, supervision, and learning at a distance.
In order to solve this issue, firms must establish formal processes to capture knowledge and make expertise available across the firm. This might take the form of regular training and knowledge-sharing activities, as well as the development of manuals, guides, and other permanent assets drawing on individual knowledge.
Make smart use of technology
While many leading law firms recognise the importance of continuous improvement to drive better processes and results, this is often neglected when it comes to document automation.
Many law firms manage to automate a selection of one or more documents, use them for a while, but then find it too difficult or time-consuming to carry out the updates and maintenance required to keep the automation in-line with the underlying precedents. Maintaining document automations can very easily become a full-time occupation for the person or teams assigned to automation. If there is no dedicated resource, then it takes PSLs away from other valuable knowledge work.
If automation projects are not kept up-to-date, fee earners will gradually revert to more and more freehand drafting. This undermines the time-saving and consistency aims of automation, and also means that the knowledge and best practice is not preserved for the next lawyer—thereby reducing efficiency both immediately and in the longer term.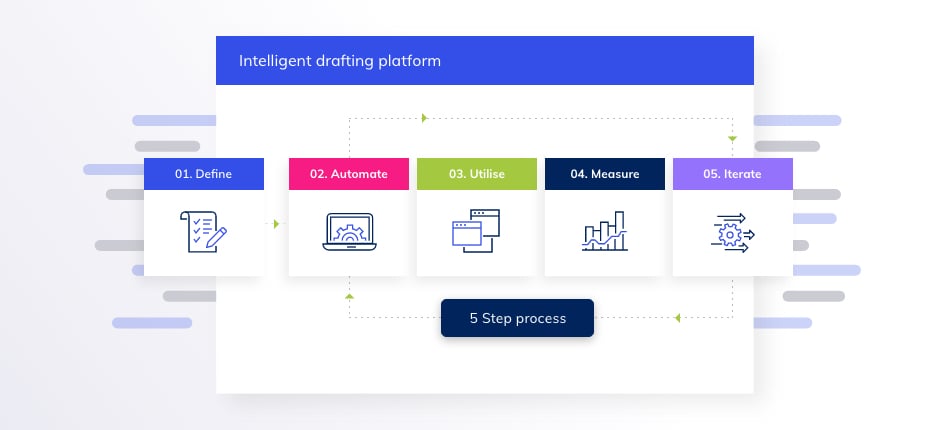 With an intelligent drafting platform, best practice is preserved alongside and within the most up-to-date precedents. These documents are easily accessible by all members of the team complete with drafting guidance to ensure accuracy and consistency throughout. Working with a technology provider that provides a managed service means that changes and updates to the automated precedents can be made with ease and rolled out quickly to ensure the integrity of the automated documents.
Build a continuous improvement program
Technology is just one side of the coin. For firms to improve knowledge sharing and best practice on an ongoing basis, they should blend technological innovations with cultural shifts.
This is why more and more firms are embracing continuous improvement. They are implementing structured and concerted frameworks to monitor, review, and improve all internal processes and activities based on prior experiences and previous outcomes. Individual learnings are applied to wider use cases, thereby improving approaches across the board.
Law firms are increasingly working hard to build a culture of positive, continuous change. Faced with increased globalisation, the rise of alternative legal service providers (ALSPs), and narrowing margins, firms adopting a culture of continuous improvement gain real benefits and competitive edge.
It's time to future-proof your firm
For the modern law firm to survive, compete, and thrive, combining effective knowledge and best practice management with continuous improvement of processes is key. An intelligent drafting technology that can evolve with client needs and internal learnings should form part of your armoury here.
This is exactly what Clarilis provides. By effectively implementing critical learnings and using the most up-to-date precedents, automations built and maintained by Clarilis contain the most relevant knowledge and best practice. It's like having your most experienced lawyer drafting every document, every time.
Key takeaways
Key knowledge within law firms is still often held by individuals, instead of being captured so that it is accessible throughout the firm.
Formal knowledge-sharing processes should be established, such as regular training and the development of permanent assets and resources.
Implement continuous improvement programs to apply individual learnings to wider use cases.
Traditional document automation toolkits are difficult and time-consuming to maintain, resulting in automated precedents losing relevance over time.
Intelligent drafting technology, on the other hand, allows you to easily preserve drafting best practice within the most up-to-date precedents.
The rise of remote working brings its own unique challenges when it comes to knowledge sharing.
While many leading law firms recognise the importance of continuous improvement to drive better processes and results, this is often neglected when it comes to document automation.
Popular Article
Facing stiffer competition than ever before, and operating against a...
Read more
Subscribe to blog
To stay up to date with all the latest news and insights, enter your email address.
(Privacy policy)