By implementing intelligent drafting technology, law firms can improve efficiency and boost their bottom line.
The need to get more from your lawyers
Maximising profitability has always been an area of focus for law firms, but today it is significantly more pressing. That's because the current economic environment, together with tighter margins, higher client expectations, and greater competition, has created an operating environment that is more challenging than ever.
Operating efficiently can mean the difference between success and failure in a challenging environment. Making more efficient use of resources to achieve maximum productivity at minimal cost is fundamental to increasing profitability. This means eliminating wasted time – and forward-thinking law firms are using an ever greater amount of LegalTech to achieve this.
The majority of firms are overburdened with ineffectual document automation and manual processes. But modern firms are using intelligent drafting technology to improve turnaround times, increase performance, and secure better profit margins. As a result, they are driving real competitive advantage.
How law firms can improve operational efficiency
Here are some practical steps that law firms can take to boost their efficiency:
Optimise how your lawyers work
While employees are undoubtedly a law firm's greatest asset, they are also their biggest cost. Total salary costs can add up to more than 60% of a law firm's fee income. Fee earners represent the biggest proportion of these costs. For firms with £2m or more annual turnover, expenditure on employed fee earners weighs in at around 40% of total fee income.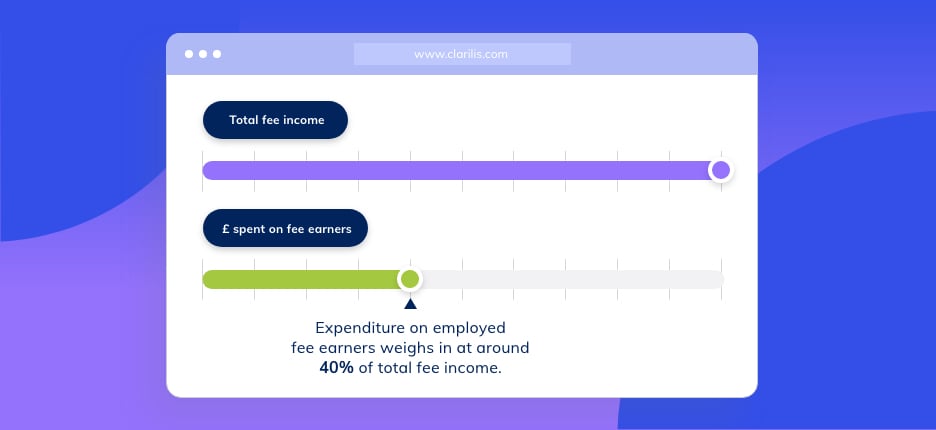 With salary costs a considerable outgoing, anything you can do to make your lawyers more productive will have a huge impact on your bottom line.
The obvious way is to do this is to free your lawyers from routine, mechanical, and inefficient drafting activities, and instead enable them to focus on higher value strategic work such as providing bespoke advice and client acquisition. Ultimately, it's about generating a greater Return on the Lawyer (ROL).
Harness cutting-edge LegalTech
Firms that make smart use of legal technology will be better equipped to keep up with the demands of a post-Covid world.
One major and established area of LegalTech is document automation. Unfortunately, however, existing document automation toolkits have over-promised and under-delivered. As well as struggling to handle complex requirements and meet evolving needs, these toolkits are also hard to implement and often take a long time to deliver value.
Traditional document automation is struggling to drive adoption, which further limits its potential benefits. A recent Legal IT Landscapes report found that only 7% of lawyers report a high level of document automation adoption at their firm. More than half (53%) say use of automated templates or precedents is 'low' or even 'niche'.
But now there's a better approach. Intelligent drafting technology approaches the entire legal matter in a structured, rule-based way. It has the power to radically reduce the time it takes to create entire suites of complex documents – by up to 90% on the first draft, and 100% on ancillaries. Ultimately, it enables lawyers to improve the quality and accuracy of their work whilst cutting down on the time and money required to produce it.
Measure everything that's important
If you can't measure something, you can't improve it – and this is why metrics are absolutely essential to operational efficiency. Law firms not only need to keep track of their traditional accounting figures, but also data around their firm's performance. By measuring fee revenue, expense per lawyer, and matter profitability – as well as time spent on activities such as document drafting – you will be able to accurately target areas for improvement and drive real change.
Embrace continuous improvement
Continuous improvement is the ongoing improvement of products, services and processes through incremental steps. It's a continuous loop of 'measurement – insight – improvement', and is already being adopted by leading law firms to drive better processes and results, keeping them competitive.
Tracking metrics such as time spent on manual document drafting should spark initiatives to increase efficiency, for example analysing the resulting data may result in your firm creating a broader range of precedents in a particular area, automating a given suite of precedents, or further automating in key areas where significant drafting time is being incurred. When it comes to document automation, it's vital to continually review the performance of your automated precedents and to regularly amend the automation to gain ever greater value from your automation initiative.
Don't try to do everything in-house
Outsourcing the implementation and maintenance of the technical aspects of document automation can be a smart move; it allows law firms and their fee earners to focus on core advisory activities, rather than straying into technology implementation.
In the case of automated drafting, projects can often take months or even years to get off the ground if handled within a law firm, creating a huge drain on internal resources. Working with a technology partner to implement intelligent drafting technology as a managed service removes the burden, improves return on investment, and liberates lawyers to do what they do best.
Now is the time to take action
Put simply, when your lawyers work more efficiently, they get more done in less time – and this has a significant impact on your bottom line.
Pioneering law firms are realising this efficiency by achieving a greater return on their lawyers. And they are doing this by using automated drafting technology effectively to liberate them from the mundane and mechanical aspects of drafting that occupy much of their time.
What's more, they are choosing a technology partner that will take on the process of building, delivering, and maintaining their automation projects – and a partner that will close the loop on ROI by providing analysis to measure the impact of the new platform.
Key takeaways
Even small increases in efficiency and productivity can have a significant positive impact on law firm income and profitability.
Total salary costs represent over 60% of a law firm's overheads, with fee earners representing the biggest proportion of those costs. It's essential to optimise their time to create maximum value or Return on the Lawyer (ROL).
Routine, mechanical, and inefficient drafting activities currently occupy much of fee earners' time.
Intelligent drafting technology has the power to radically reduce the time it takes to create entire suites of complex documents – by up to 90% on the first draft, and 100% on ancillaries.
By outsourcing automation projects to a technology partner providing a managed service, law firms are able to guarantee a greater ROI and have access to the key metrics that measure success.
Want to know if your level of efficiency can be improved? Take the Return on the Lawyer (ROL) self-assessment