FromCounsel and Clarilis have today announced the next phase of their award-winning partnership with the launch of automated Share Reorganisation suites.

Following the success of their automated M&A suite, FromCounsel and Clarilis have launched a collection of comprehensively automated Share Reorganisation suites based on common share capital reorganisations. This includes substantial automation of share transfers, variations of class rights, share issues, share buybacks, consolidations of shares, reductions of capital, redesignations of capital and articles of association. These automated suites contain extensive optionality within the underlying drafting - far beyond the level seen in most traditional 'flat' precedents.

This automated content partnership, of which Share Reorganisations is the latest phase, combines FromCounsel's market leading content with deep automation enabled by the Clarilis platform.

The obvious benefits of consistency, time savings and increased lawyer capacity sit alongside the removal of human error and reduction of the risk of failure to comply with the strict legislative requirements required for these processes. The excellent guidance and drafting notes provided by FromCounsel as part of this automation assists fee earners to avoid the many pitfalls associated with this category of work. This all enables risk mitigated delegation of drafting to more junior members of the team.

Clarilis and FromCounsel will be discussing this project and offering a preview of these automated suites at a webinar on the 14th June -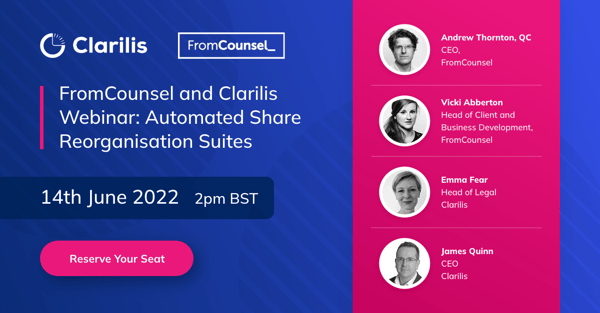 James Quinn, CEO, Clarilis commented:
"This is another significant next step forward in the commitment of Clarilis and FromCounsel to deliver standardisation in legal as an enabler for accelerated LegalTech adoption. It builds upon the launch in May 2021 of the exceptionally well received automated M&A suite that delivers savings of up to 14 hours drafting time per use. Our customers have been eagerly anticipating this next phase and we look forward to showcasing these suites at our event on 14th June."

Andy Thornton, QC and CEO of FromCounsel commented:
"The first phase of our alliance proved that standardisation can be achieved to enable firms to quickly deliver high quality documentation, minimise risk and provide employees with the best tools. We will continue to extend the range of documentation available with Clarilis, on behalf of law firms of all sizes and look forward to the next phase of pre-automated content in the form of the complex documentation within the Shareholders agreement suite."
For more information on Clarilis and FromCounsel, follow the